About
At Redding Ridge, our largest business consists of acting as a collateral manager for CLO transactions and related warehouse facilities, and as a holder of majority equity investments in the US and European CLOs we manage.
We also have a growing partnership investing and staking strategy through which we can acquire minority economic interests in third-party managers while providing balance sheet and consultative support.
Redding Ridge was established and seeded by Apollo Global Management in 2016 in response to risk retention regulations. Redding serves as the risk retention holder in all of our EU CLOs, and we have the ability to satisfy EU risk retention for US deals to capitalize on strategic EU debt investors.
clo management
Redding Ridge combines significant CLO management and structuring expertise, with a vast network of industry contacts and investor relationships. We are supported by top-tier credit research, trading and risk management to strategically position our funds for success. We also believe our perpetual capital base provides a competitive advantage in allowing us to maximize CLO arbitrage opportunities.
Our CLO philosophy centers on consistent portfolio management, execution and structuring. We believe this generates the best performance for all investors.
Redding Ridge has a strong focus on execution and structuring in addition to consistent portfolio management. We believe this generates the best performance for all investors.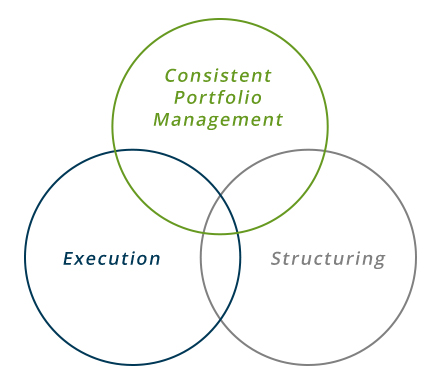 Consistent Portfolio Management: Maintain a disciplined investing approach through all markets. We invest on a bottoms-up basis, building high-quality portfolios derived from a deep understanding of each underlying asset.
Execution: Strategic and selective on timing when ramping assets and issuing a deal in order to create attractive investment vehicles.
Structuring: Each deal is structured to fit our credit investment style and both current and evolving credit market trends.